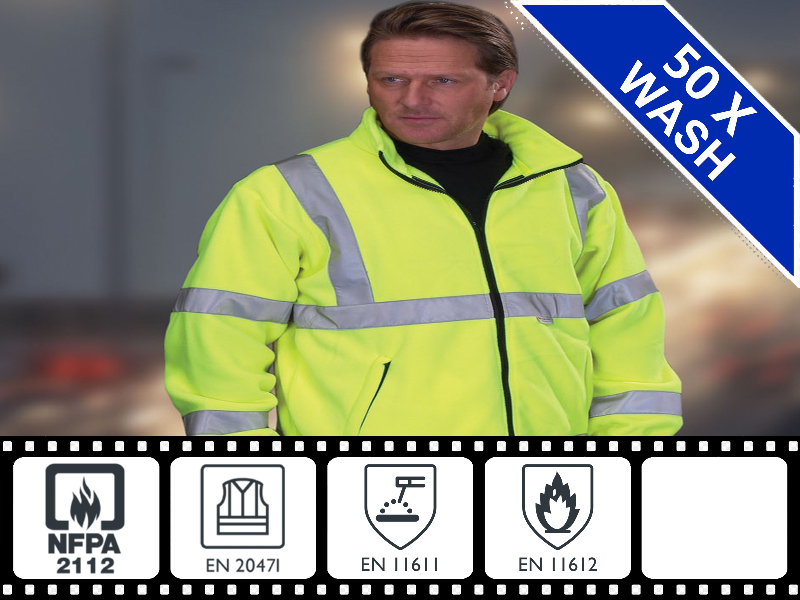 FR- Fleece 480gsm |480gsm 70% Modacrylic 30% Viscose FR Knitted Fleece | Knitted Fleece Fabric
Material:

• 70% Modacrylic 30% Viscose

Fabric Weight:

• 480gsm

Fabric Width(cm):

• 57/58"

Minimum Order Quanlity (MOQ):

• 1000kg (Make-to-order)
We're here to help: Easy ways to get the answers you need.
Share With:

Technical Data
Accreditations & Features
Related Products
Inquiry
480gsm 70% Modacrylic 30% Cotton FR Knitted Fleece Fabric
FRMV- Fleece 480gsm is a modacrylic fabric for fr-clothing. Made with modacrylic-Viscose blend it has inherently flame retardant composition. FRMV- Fleece 480gsm is a very comfortable and versatile fr-fabric for long lasting protective performance. FRMV- Fleece 480gsm can be used as a hoodie or warmer layer for winter FR-clothing.
COLOR FASTNESS

Color Change (Washing 60°C)
4-5(Light) 4-5 (Dark)
ISO 105 C06
Color Staining (Washing 60°C)
4 (Light) 3 (Dark)
ISO 105 C06
Rubbing Fastness Dry
4-5(Light) 3 (Dark)
ISO 105 X12:1995
Rubbing Fastness Wet
3-4(Light) 2-3 (Dark)
ISO 105 X12:1995
Light Fastness
3-4(Light) 3-4 (Dark)
ISO 105 B02

PHYSICAL PROPERTIES
Bursting Resistance
285KPa
ISO 13938-1:1999
Dimensional Stability to Washing (Max)
<5%
ISO 5077-ISO 6330
Abrasion Resistance
15,000 rubs
EN ISO 12947-2:1999
Pilling Resistant
4 ENISO 12945-2:2001
Flame Resistant
EN ISO11612 A1, B1, B1, C2, F1
Care Instructions

KEEP IN COOL DRY PLACE, WITH NO DIRECT SUNLIGHT
Accreditations of
FR- Fleece-280gsm

Certifications: ISO 11612, NFPA2112,ASTM F1506,EN 20471
Benefits of

FR- Fleece-280gsm
Very warm and Breathable
Available in High Visibility
Safe to Skin
No heavy metal contained and Free Formaldehyde
Durable & easycare
Key Features:
FR-treatment: Inherent Flame Retardant
Area of use: FR-clothing, Hoodie, Industrial clothing, outdoor clothing
Weave: FR-Knit Fleece
Wash Performance: Domestic Wash
Please fill in your procurement needs and contact information