About Us
Leadership Speech
Enterprise Culture
OUR COMPANY
Henan Tianyu Garment Import & Export Co., Ltd is the Chinese professional manufacturer of specializing in development, production and trade of woven fabrics and functional fabric for uniform, workwear and etc. The main manufacturing facilities of company are located in Xinxiang, Henan Province, China. We presently have three dyeing lines, two printing lines and three Flame-retardant lines. Annual production capacity can up to 6 million meters monthly.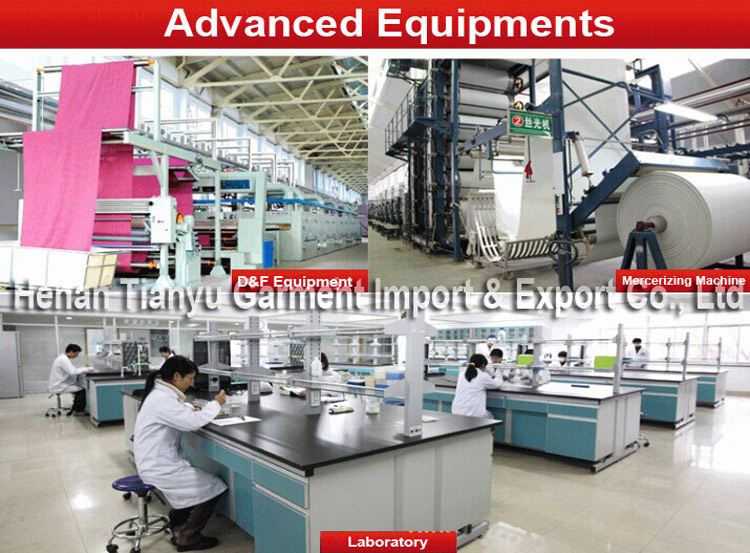 OUR FABRICS
Tianyu Textile's products can be divided into 6 groups, including 100% Cotton Fabrics, 100% Polyester/ 100% Nylon Fabric (with / without coating), T/C Fabric (Cotton blend with Polyester content >50% ), CVC Fabric(Cotton blend with Polyester content <50%),Functional Fabrics which include Flame Retardant Fabrics, Antistatic Fabrics, Waterproof Fabric, Anti-Acid & Alkali Fabric, High-Visibility Fabric, Anti-UV Fabric, Coating Fabric and Printed Fabric which include Camouflage Fabric and Flannel Fabric. All Fabric are suitable for sewing workwear, uniform, protective clothing, outerwear, jacket, casual wear and etc.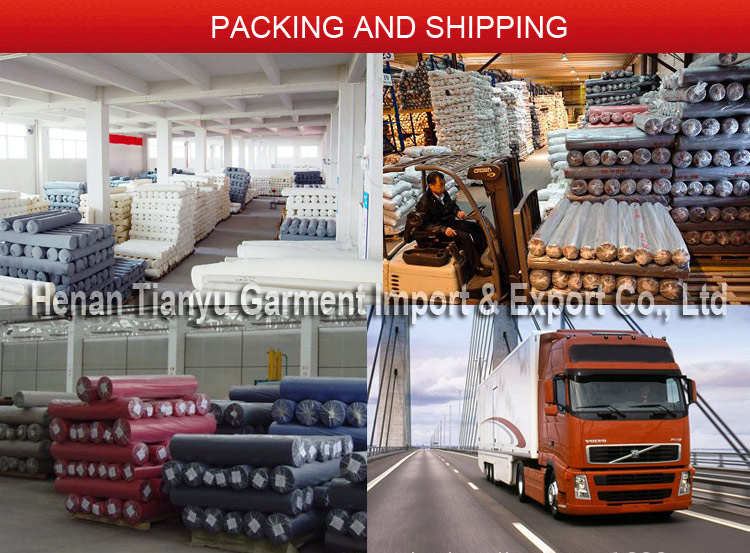 OUR QUALITY
Tianyu Textile is a technology-oriented, specialization-basic enterprise, who provides the stable, safety and ecological textile products to the market.
Products have passed Oeko-Tex 100, UL,BV,C-TPAT certificate and have reached GB8965, GB12014,GB12014, GB12012, GB12799, EN ISO11611 (EN470-1), EN ISO11612(EN531), ENISO14116 (EN533), ASTM D6413, ASTM F1506, ASTM F1959, NFPA2112,NFPA70E, CFR1615/1616, CPAI84, AATCC22, AATCC130, BS5852, JIS-L-1091,CGSB-155.20-2000, EN13034, EN368, EN1149 and IEC61482 which are approved by SGS, TUV, ITS, BTTG, MTL international authentication agency.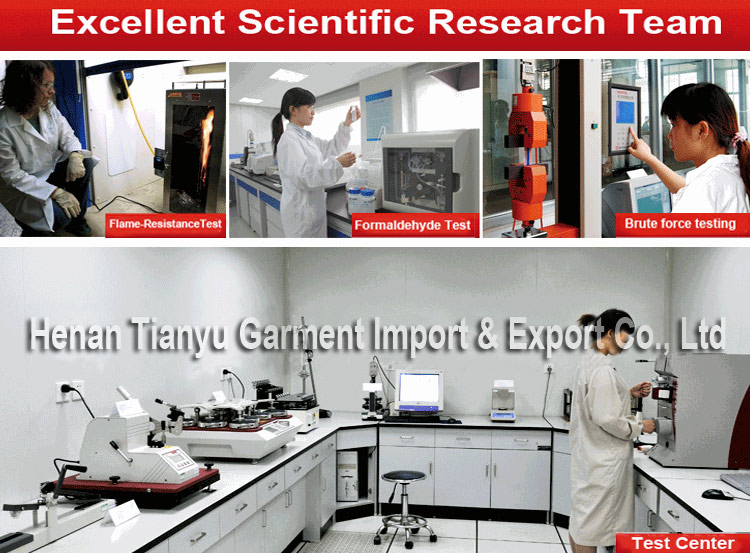 Director: Guangshun Lee

Managing Director: Jianhua Lee
Tianyu Textile was founded in 2000 with the main purpose to meet broad needs of global market for new versatile fabrics for workwear with a top notch quality to price ratio.
We have been taking "Solidarity, Diligence, Honest, Quality, Dedication and Mutual Benefit" as the philosophy of our business. We always remember the company's responsibility and mission to provide products and services of high quality for customers. We have developed a series of high-end textile products for uniform industry. These new products not only promote the level of career apparel fabrics, but also can help our loyal customers getting victories in the competitive markets of their regions.
"Solidarity and Diligence": we will abide by the spirit of perseverance and braving difficulties. Led by that spirit, Tianyu Member constantly moves forward to become the Chinese first-class as well as the international first-class textile enterprise.
"Honesty" is an inseparable element of any entrepreneurial activity and all the work related to it. We always demand strictly and emphasize the importance of details. Customers' orders will be completed with quality and quantity guaranteed. And the sincerest service will be provided.
"Quality" is the basic premise of gaining markets' recognition, a strong brand foundation and a powerful tool to seize the market.
"Dedication": actively take responsibility for the society, customers, partners and employees. Each Tianyu Member have strong self-confident and willing to accept his responsibility for society, enterprise, family and friends.
"Mutual Benefit" is the value orientation we strongly abide by. It not only embodies the spirit of cooperation, but also expresses our deep understanding of how to reach both us and our clients' goals efficiently.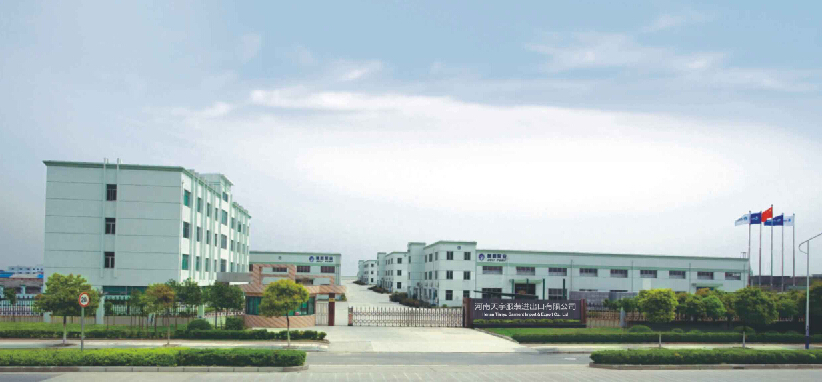 Enterprise Vision: Serving for garment enterprises, meanwhile leading our product towards everywhere of the world.

Enterprise Mission: Providing high quality products and most considerate services, thereby lets clients to purchase best fabric goods more conveniently and efficiently.

Enterprise Development Concept: Quality first, keep enterprising and improving, client paramountcy, and strive to give customers the most professional, internationalized, innovative and differentiated products.

Enterprise Spirit: Solidarity, Diligence, Honest, Quality, Dedication and Manual Benefit.

Enterprise Value: creating value for our customer, building the life stage for our employees and making contribution to society

Employee Work Style: advocating teamwork, service and the pursuit of excellence, take quick action to finish each task mindfully, assuming responsibility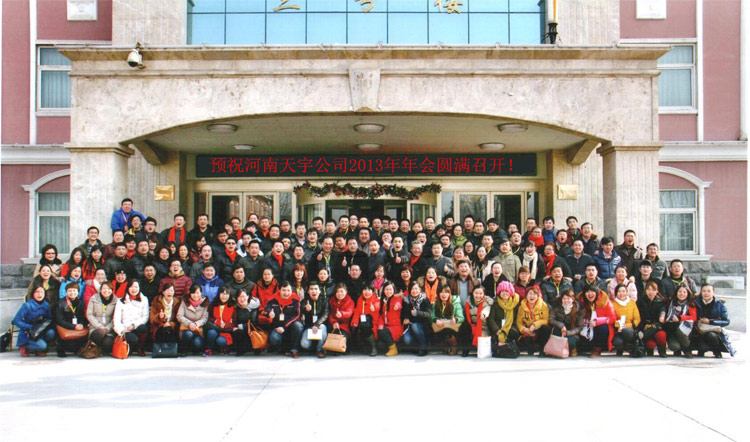 A winner never quits, we are the best team in the world.