About Us
Leadership Speech
Enterprise Culture
OUR COMPANY
TIANYU Protective Textiles is a professional manufacturer in China with over 30 years in dyeing and printing industry, specializing in development, production and trade of woven fabrics with functional treatments for workwear, uniforms and protective clothings. Located in Xinxiang City, Henan Provice, where is the base of functional workwear fabrics in China.
OUR QUALITY
TIANYU Protective Textiles is always dedicated to serving customers worldwide covering Asia, Europe, North America and Africa, our excellent service and products are related to these core factors:
Complete Production Equipments and Facilities - 3 continuous dyeing range lines, 3 FR lines and 2 printing lines, ensuring our annual capacity steadily achieves 80 million meters.
Diversified and Hi-Quality Products - Covers basically all kinds of workwear and uniform fabrics, quality conform to international testing standards, providing customers with ONE-STOP service on collection demand.
Strict Quality Inspection System - From the beginning of raw materials procurement, sampling testing during each process in production, and fully inspection on finished products are strictly controlled for quality guarantee.
Experienced Staffs - The most valuable asset of enterprise and protected by Labor Law. Practised production team, international sales and service structure encouraging development and support on customer experience.
Environmental Protection and Sustainable Development - The application of self-built sewage treatment plants and new energy is the embodiment of the scientific development concept and the corporate social responsibility.
OUR FUNCTIONAL FABRIC RANGE
TIANYU Protextive Textiles mainly covers the following groups, customers could choose own products according to different needs and positioning in demand. Have a look at TIANYU protective and functional fabrics range, which made of 6 main groups:

COTTON FLAME RETARDANT FABRICS (100% COTTON, 99C/1AS, 98C/2AS)



COTTON NYLON FLAME RETARDANT FABRICS (NYLON/COTTON 88/12)



COTTON-POLYESTER FLAME RETARDANT FABRICS (CVC 80/20)



INHERENT ARAMID FLAME RETARDANT FABRICS



WAERPROOF/OIL/STAIN REPELLENT FABRICS


- BRUSH/PEACH FINISH COMFORT FINISH
- SOFT/HARDER FABRIC HANDEL FINISH
- CREASE RESISTANT FINISH
- ANTI-BACTERIAL/MICROBIAL FINISH
- ANTI-INSECT FINISH
- ANTI-CHEMICAL FINISH
More details about the full range of our regular workwear/uniform fabric etc, can find on our web-site www.tytextiles.com
WHO IS SUITABLE FOR OUR FUNCTIONAL FABRICS?
The functional fabrics of TIANYU Textiles used for the clothes of industrial workers, who work in higher risk environment or near high power machines or in close proximity to liquid metals, splashes of chemicals and other hazards. Functional fabrics are widely used in mining industries, especially in Oil & Gas and in other industries like Petroleum, Chemical, Electrical Utilities, Metallurgy etc. Line workers, electricians, laboratory technicians, chemical engineers, gas station attendants, doctors/nurses and many others professionals wear Functional workwear/uniforms. Army, Police, Emergency and Medical staffs they all also use Functional fabrics, which in fact save their lives.

TIANYU Protective Textiles has its own R&D department and technical team, which develops fabrics with special properties required by our clients, containing Flame-Retardant Fabrics, Antistatic Fabrics, Oil/Water/Stain Repellent Fabrics, Acid/Alkali Repellent Fabrics, Fluorescent Fabrics etc.

Among them, our Flame-Retardant products consists of 100% Cotton, Cotton Nylon 88/12 (NC 88/12), Cotton/Polyester (CVC 80/20) and Meta-Aramid series fabrics (Type 3), which has an excellent reputation and vast demand both in the international and domestic markets. Therefore, we offer our functional fabrics with higher value, better quality, durability and appearance for all worldwide customers.
OUR CERTIFICATE
Our mission is to defend lives and health of all workers in complex and hazardous environment. In order to achieve this mission, the certificates related with relevant European and American standards counted can help our clients better understand our functional products, which meets the following safety standards:
Flame-Retardant Fabrics:
EN ISO 11611 (ex. EN 470-1), EN ISO 11612 (ex. EN 531), EN ISO 13034, EN ISO 1149, EN 61482-1-2, EN 15614, EN 469, EN ISO 15797, EN ISO 15025 (ex. EN 532), EN ISO 14116 (ex. EN 533), NFPA 2112, ASTM F1959, ASTM F1506, ASTM D6413 etc.
Antistatic Fabrics:
EN ISO 1149
Water and Oil Repellent Fabrics:
EN ISO 343
Fluorescent Hi-Vis Fabrics:
EN ISO 20471
Anti-Chemical Fabrics:
EN ISO 13034
Furthermore, high-quality functional fabrics of TIANYU Protective Textiles have also been recognized by testifying in 3rd-party international laboratories, like SGS, TUV, Bureau Veritas etc.
Contact with us, you will get the certificates required for each functional fabric.
Director: Guangshun Lee

Managing Director: Jianhua Lee
Tianyu Textile was founded in 2000 with the main purpose to meet broad needs of global market for new versatile fabrics for workwear with a top notch quality to price ratio.

We have been taking "Solidarity, Diligence, Honest, Quality, Dedication and Mutual Benefit" as the philosophy of our business. We always remember the company's responsibility and mission to provide products and services of high quality for customers. We have developed a series of high-end textile products for uniform industry. These new products not only promote the level of career apparel fabrics, but also can help our loyal customers getting victories in the competitive markets of their regions.

"Solidarity and Diligence": we will abide by the spirit of perseverance and braving difficulties. Led by that spirit, Tianyu Member constantly moves forward to become the Chinese first-class as well as the international first-class textile enterprise.

"Honesty" is an inseparable element of any entrepreneurial activity and all the work related to it. We always demand strictly and emphasize the importance of details. Customers' orders will be completed with quality and quantity guaranteed. And the sincerest service will be provided.

"Quality" is the basic premise of gaining markets' recognition, a strong brand foundation and a powerful tool to seize the market.

"Dedication": actively take responsibility for the society, customers, partners and employees. Each Tianyu Member have strong self-confident and willing to accept his responsibility for society, enterprise, family and friends.

"Mutual Benefit" is the value orientation we strongly abide by. It not only embodies the spirit of cooperation, but also expresses our deep understanding of how to reach both us and our clients' goals efficiently.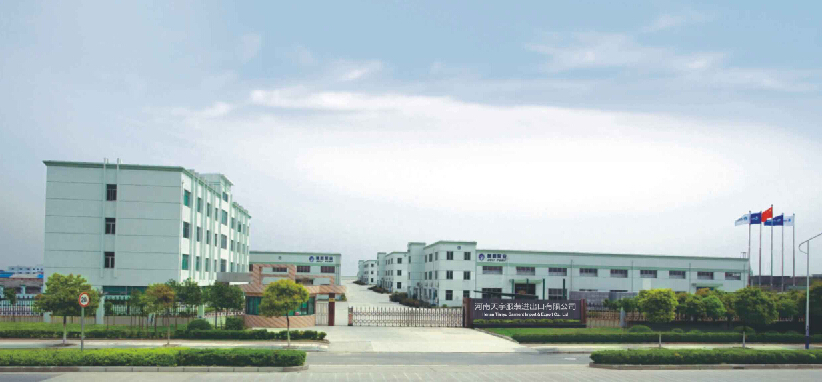 Enterprise Vision: Serving for garment enterprises, meanwhile leading our product towards everywhere of the world.

Enterprise Mission: Providing high quality products and most considerate services, thereby lets clients to purchase best fabric goods more conveniently and efficiently.

Enterprise Development Concept: Quality first, keep enterprising and improving, client paramountcy, and strive to give customers the most professional, internationalized, innovative and differentiated products.

Enterprise Spirit: Solidarity, Diligence, Honest, Quality, Dedication and Manual Benefit.

Enterprise Value: creating value for our customer, building the life stage for our employees and making contribution to society

Employee Work Style: advocating teamwork, service and the pursuit of excellence, take quick action to finish each task mindfully, assuming responsibility