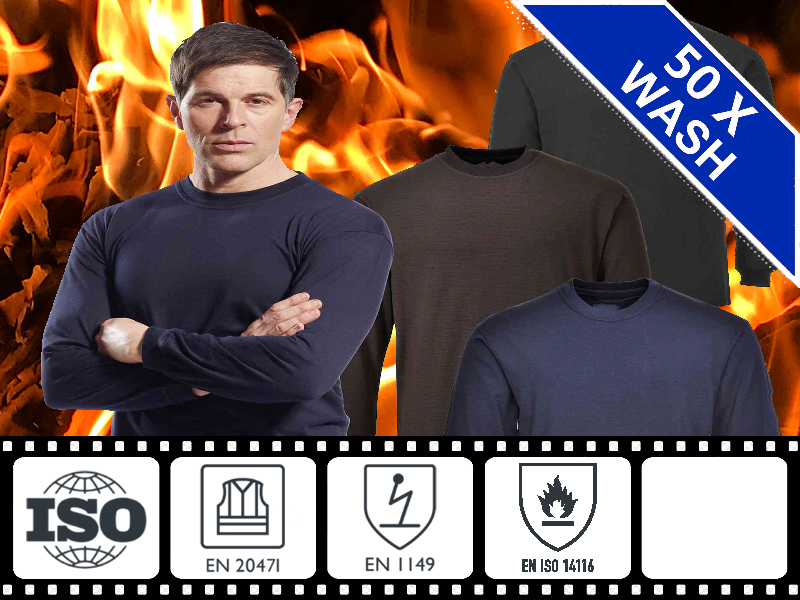 FR- Jersey-200gsm |60% Modacrylic 38% Cotton 2% Antistatic | Knitted Single Jersey Fabric
Material:

• 60% Modacrylic 38% Cotton 2% Antistatic

Fabric Weight:

• 200gsm

Fabric Width(cm):

• 57/58"

Minimum Order Quanlity (MOQ):

• 1000kg (Make-to-order)
We're here to help: Easy ways to get the answers you need.
Share With:

Technical Data
Accreditations & Features
Related Products
Inquiry
200gsm 60% Modacrylic 38% Cotton 2% Antistatic FR Knitted single jersey Fabric
Flame retardant fabric FR-Jersey-200gsm is made of 60% Modacrylic, 39% Cotton fiber with 2% Antistatic Fiber is used for fr base layer (FR underwear). Modacrylics are also improved comfortable in comparison with other FR treated fabrics. They don't contain heavy metals, zero formaldehyde release, it's safer to wearers even if worn every day. these fabrics are engineered to be lightweight, breathable and stretchy.
COLOR FASTNESS

Color Change (Washing 60°C)
4-5
ISO 105 C06
Color Staining (Washing 60°C)
4
ISO 105 C06
Rubbing Fastness Dry
4
ISO 105 X12:1995
Rubbing Fastness Wet
3
ISO 105 X12:1995
Light Fastness
3-4
ISO 105 B02

PHYSICAL PROPERTIES
Bursting Resistance
175.7 KPa
ISO 13938-1:1999
Dimensional Stability to Washing (Max)
<5%
ISO 5077-ISO 6330
Finish
Flame Resistant ISO14116
Antistatic EN1149-5:2018
Care Instructions

KEEP IN COOL DRY PLACE, WITH NO DIRECT SUNLIGHT
Accreditations of
FR- Jersey-200gsm
Flame Retardant : ISO 14116

Antistatic: EN1149-5:2018
Benefits of
FR- Jersey-200gsm
Safe to Skin
No heavy metal contained and Free Formaldehyde
warm & easycare
Key Features:
FR-treatment: THPC
Area of use: FR underwear
Weave: FR-Knitted Fabric
Wash Performance: Domestic Wash
Please fill in your procurement needs and contact information