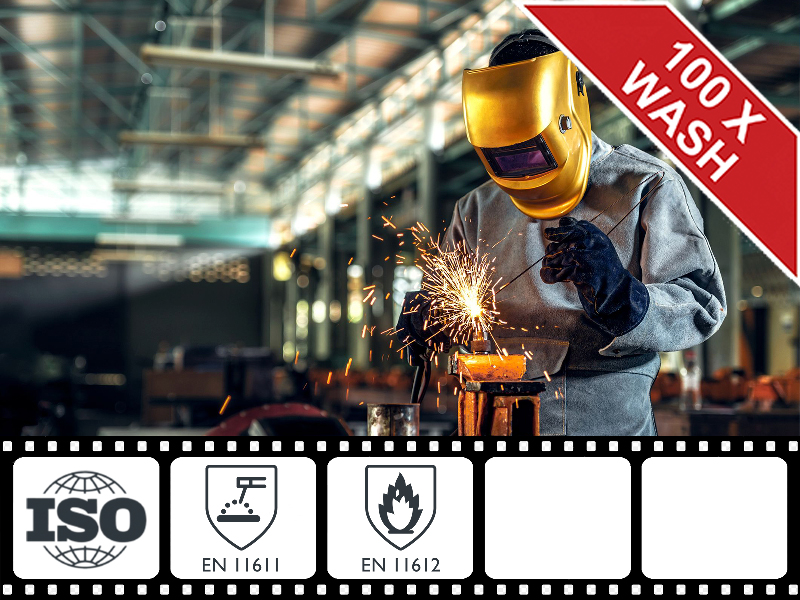 CFR-265gsm | 100% Cotton FR | Twill 3/1
Material:

• 100% Cotton Flame Retardant Fabric

Fabric Weight:

• 265gsm

Fabric Width(cm):

• 57/58"

Minimum Order Quanlity (MOQ):

• 5m (Retail) 3000m (Make-to-order) Ready on warehouse, Ask for available color.
We're here to help: Easy ways to get the answers you need.
Share With:

Technical Data
Accreditations & Features
Related Products
Inquiry
Description of CFR - Cotton FR 265gsm Fabric
CFR-265 is a flame-retardant 100% cotton fabric with 265gsm density, with a classic twill 3/1 weave.

CFR-265 is a pure cotton flame-retardant protective fabric made of a high strength pure cotton fiber. CFR-265 fabric safely protects from the risks of flash fire.It can be used for middleweight Protective clothing in oil & gas/ chemical/ gas station/ mining/ welding/ repair such field for making fire fighter suit/ first aid suit/ welder work wear.
COLOR FASTNESS

Color Change (Washing 60°C)
4-5
ISO 105 C06
Color Staining (Washing 60°C)
4
ISO 105 C06
Rubbing Fastness Dry
4
ISO 105 X12:1995
Rubbing Fastness Wet
3
ISO 105 X12:1995
Light Fastness
3-4
ISO 105 B02

PHYSICAL PROPERTIES
Tensile Strength (N)
warp/weft 1200/550N
ISO 13934-1
Tear Strength (N)
warp/weft 32/30N
ISO 13937-2
Dimensional Stability to Washing (Max)
warp/weft +/-3%
ISO 5077
Abrasion resistance
20,000 rubs ISO12947-2:1999
Pilling Resistance
4 ISO 12945-2:2001
Care Instructions

KEEP IN COOL DRY PLACE, WITH NO DIRECT SUNLIGHT
Accreditations of CAFR-265 Fabric
ISO 11611 (Class 1) – Protective fabric for welders
ISO 11612 (A1, A2, B1, C1, E3, F1) – Protective fabric for industrial workers
EN 61482-1-1 – Protective clothing against the hazards of an electric arc
ARC RAITING: ATPV = 10.3 cal/cm2
Key Features:
1.NFPA 2112 compliant
2.Chemical flame retardant finish
3.Excellent protection against fire & heat
4.Good tear & tensile strength for a lightweight FR treated cotton
5.Natural cotton for comfort, softness & moisture control
6.Excellent colour fastness
7.Excellent wash shrinkage
8.Excellent pilling resistant
9.Formaldehyde content under 75ppm
10.Tested to industrial laundry 50 washes at 60ºC.


Test Certificates: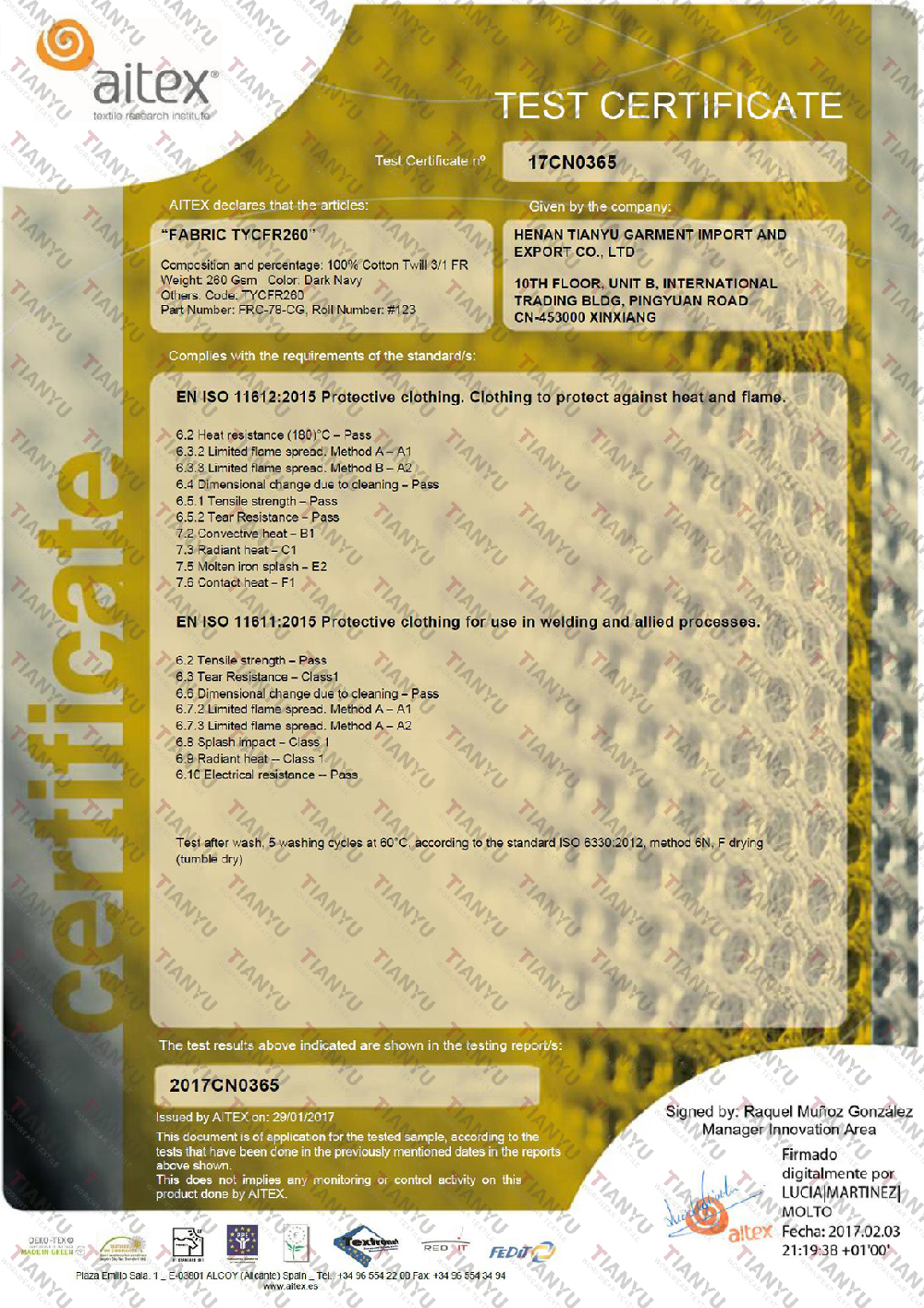 EN11611, EN11612
Please fill in your procurement needs and contact information