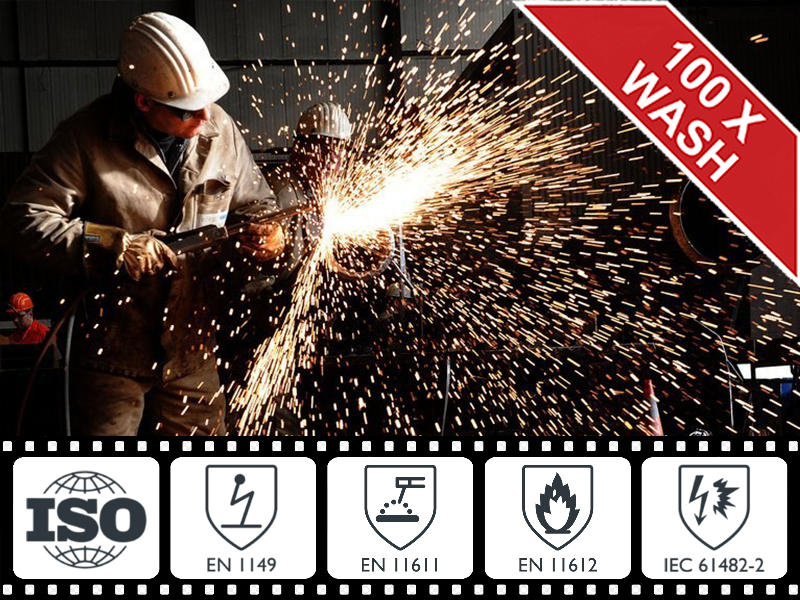 CFR-CANVAS 300gsm | 100% Cotton FR | Canvas 1/1
Material:

• 100% Cotton FR Fabric

Fabric Weight(gsm):

• 300GSM

Fabric Width(cm):

• 57/58"

Minimum Order Quanlity (MOQ):

• 5m (Retail) 3000m (Make-to-order) Ready on warehouse, Ask for available color.
We're here to help: Easy ways to get the answers you need.
Share With:

Technical Data
Accreditations & Features
Related Products
Inquiry
Description of CFR - Cotton FR 300gsm Canvas Fabric

CFR-300 is the hot sale heavyweight Cotton FR fabric. its use this fabric for everyday flame-retardant workwear for different metal processing works in heavy machinery, automotive manufacturing and etc. it is comfortable to wear and at the same time CFR-300 safely protects from the risks of flash fire and electric arc and is certified to EN 1149 Antistatic standard.Having an arc thermal protective value (ATPV) status of 13 cal/cm2, the CFR-300 FR-fabric is certified to hazard risk category (HRC) 2 (NFPA 70E).
COLOR FASTNESS

Color Change (Washing 60°C)
4-5
ISO 105 C06
Color Staining (Washing 60°C)
4
ISO 105 C06
Rubbing Fastness Dry
4
ISO 105 X12:1995
Rubbing Fastness Wet
3
ISO 105 X12:1995
Light Fastness
3-4
ISO 105 B02

PHYSICAL PROPERTIES
Tensile Strength (N)
warp/weft 1500/800N
ISO 13934-1
Tear Strength (N)
warp/weft 23/26N
ISO 13937-2
Dimensional Stability to Washing (Max)
warp/weft +/-3%
ISO 5077
Abrasion resistance
26,500 rubs ISO12947-2:1999
Pilling Resistance
3-4 ISO 12945-2:2001
Care Instructions

KEEP IN COOL DRY PLACE, WITH NO DIRECT SUNLIGHT
Accreditations of CFR-300 Fabric
ISO 11611 (Class 1) – Protective fabric for welders
ISO 11612 (A1, A2, B1, C1, E3, F1) – Protective fabric for industrial workers
EN 1149-5 (1149-3 METHOD 2) – Protective fabric with Antistatic properties, ESD protection
ASTM 1959 ARC RAITING: ATPV = 10.5 cal/cm2
HEAT ATTENUATION FACTOR: HAF = 81%
Key Features of CFR-300 Fabric:
1.Chemical Flame Retardant Finish
2.Protection Against Fire,Heat, Flame spread And Welding
3.Good Tear And Tensile Strength
4.100% Cotton For Comfort And Air permeability
5.Good Colour Fastness, odourless
6.Excellent Wash Shrinkage and Hard Wearing
7.Tested To Industrial Laundry 50 Washes At 75°



Test Certificates: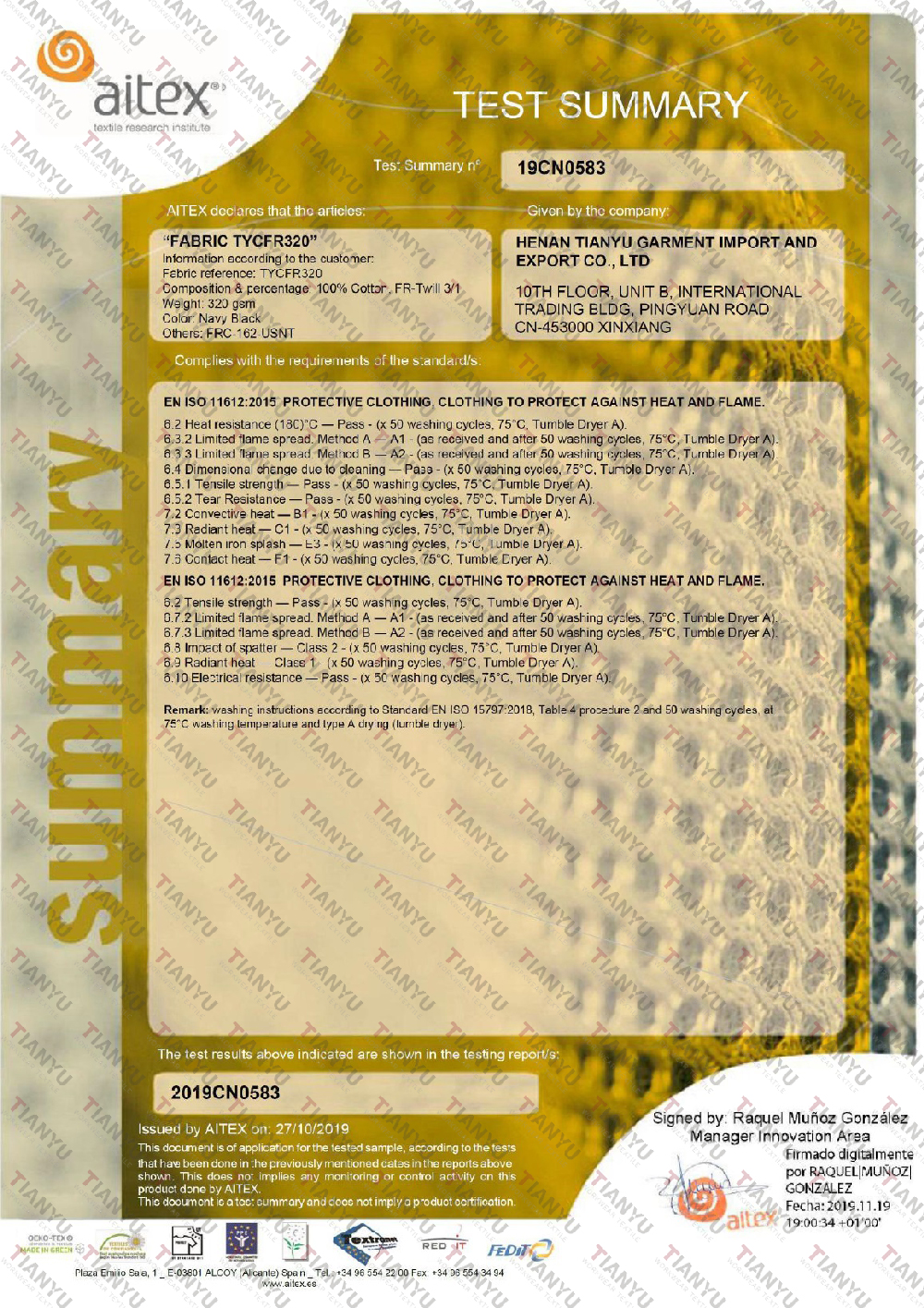 EN11611, EN11612
Please fill in your procurement needs and contact information