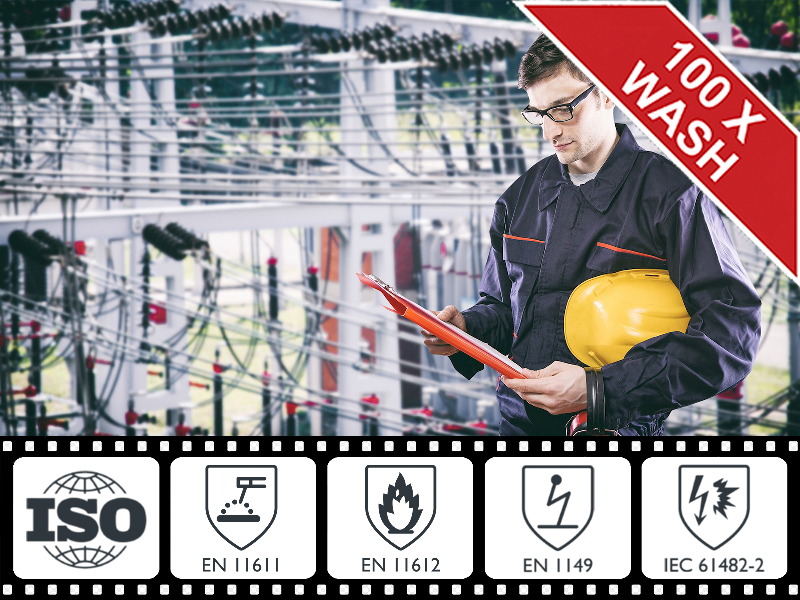 CNAFR-260gsm | 87% Cotton 12% Nylon 1% Antistatic| FR- Twill 3/1
Material:

• 87% Cotton 12% Nylon 1% Antistatic

Fabric Weight(gsm):

• 260GSM

Fabric Width(cm) :

• 150cm(±1cm)/60"

Minimum Order Quanlity (MOQ):

• 5000m ( Make-to-order)
We're here to help: Easy ways to get the answers you need.
Share With:

Technical Data
Accreditations & Features
Related Products
Inquiry
Description of CNAFR - Cotton/Nylon Antistatic FR 260gsm Fabric


CNAFR-260 is multi-functional Flame Retardant fabric with Antistatic properties and is made of 87% cotton/ 12% nylon, 1% Antistatic, weight 260gsm and best used for protective clothing,which is extremely tear-resistant and durable. This durability lets sufficiently increased life circle of flame retardant clothing.

C/N Antistatic FR Fabric have better anti-flash/ arc proof compare to Cotton FR antistatic Fabric, CNAFR-260 provides excellent protection from the risks of Flash fire and Electric Arc (Reach HRC 2 level) and it is also very light and comfort to wear. these protective fabrics are most used in workplace with hot climate in such industries as Petroleum, Gas, Electric, Machinery, Automotive and etc.
COLOR FASTNESS

Color Change (Washing 60°C)
4-5
ISO 105 C06
Color Staining (Washing 60°C)
3-4
ISO 105 C06
Rubbing Fastness Dry
3
ISO 105 X12:1995
Rubbing Fastness Wet
3-4
ISO 105 X12:1995
Light Fastness
3-4
ISO 105 B02

PHYSICAL PROPERTIES
Tensile Strength (N)
warp/weft 1000/600N
ISO 13934-1
Tear Strength (N)
warp/weft 29/40N
ISO 13937-2
Dimensional Stability to Washing (Max)
warp/weft +/-3%
ISO 5077
Abrasion resistance
28,000 ISO12947-2:1999
Pilling Resistance
3-4 ISO 12945-2:2001
Care Instructions

KEEP IN COOL DRY PLACE, WITH NO DIRECT SUNLIGHT

Accreditations of CNAFR-260 Fabric
ISO 11611 (Class 1) – Protective fabric for welders
ISO 11612 (A1, A2, B1, C1, E3, F1) – Protective fabric for industrial workers
EN 61482-1-1 – Protective clothing against the hazards of an electric arc
ARC RAITING: ATPV = 12 cal/cm2
HEAT ATTENUATION FACTOR: HAF = 81%
EN 1149-5 (1149-3 METHOD 2) – Protective fabric with Antistatic properties, ESD protection
NFPA 2112 – Standard on Flame-Resistant Clothing for Protection of Industrial Personnel Against Short-Duration Thermal Exposures from Fire
Key Features:
1.Chemical flame retardant finish
2.Ideal in refineries & industries with Anti-static Properties
3.Protection against fire, heat & flame spread
4. 87/12/1% cotton/nylon/antistatic for comfort & durability
5. Good colour fastness
6.Good abrasion resistance
7.Excellent wash shrinkage
8.Tested to industrial laundry 50 washes at 75ºC.
Please fill in your procurement needs and contact information