Tianyu Textile organized FR Fabric training for Dealers and Customers
2015-01-08
Tianyu Textiles, one of the fastest-growing companies in the area of flame retardant fabrics organizes the training for all managers, domestic wholesaler and dealers.
The event is held in the main office in Xinxiang, the headquarter of the company is based. The intensive 2 day training focused on studying last technological innovations and marketing initiatives of Tianyu textiles. Between them are new developed of light (150-260gsm) FR treated fabric and the development and application of inherent FR fabric. Also, the meaning of safety standards, such as NFPA 2112 and EN 20471 11611 11612 are also to be reported.
This is the first such experience in the company, due to growing popularity of Tianyu Textile brand attracts more and more garment manufacturers, the growing demand of dealers and customers to know more about textile technologies. In order to provide better service to such customers, there was organized this knowledge gathering.
The team of Tianyu Textiles hopes to reveal all the knowledge and experience gained during this training on an exhibition in Vietnam, HCM City 2015, in April. There will be a big booth with the best and innovative textile, come to visit us!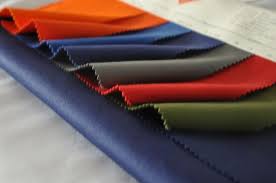 Choose Tianyu, Choose Quality, Choose Satisfaction.