Congratulations to Henan Tianyu co., LTD. has renewed the Oeko-Tex standard 100 authentication
2013-08-14
Congratulations to Henan Tianyu co., LTD. has renewed the Oeko-Tex standard 100 authentication in 12TH of August ! Oeko Tex Standard authentication, also namely Oeko-Tex Standard 100, is one of the world's most authoritative and the widest influence textiles eco label. The Oeko-Tex Standard 100 products pass the test and certification of the 15 countries famous textile testing organizations (both belonging to the international environmental protection textile association) in the world.

Oeko-Tex Standard 100 label products provides the assurance of ecological security, to satisfy the consumer's demand of healthy living. The products pass Oeko-Tex Standard 100 test and certification guaranteed not to cause harm to human body health. And, more importantly, the certification can effectively circumvent the European Union and North America and other countries trade barriers, help China manufacturing onboard the European and American high-end market smoothly.

Due to the complexity application process, many domestic enterprises are difficult in the application process, and the rigorous test process make some enterprises difficult to pass.My company finally obtained the standard authentication through the unremitting efforts of all staff, in the future process production, our company will adhere to the rigorous consistent work style, wholeheartedly provide the best flame retardant fabric products to customers!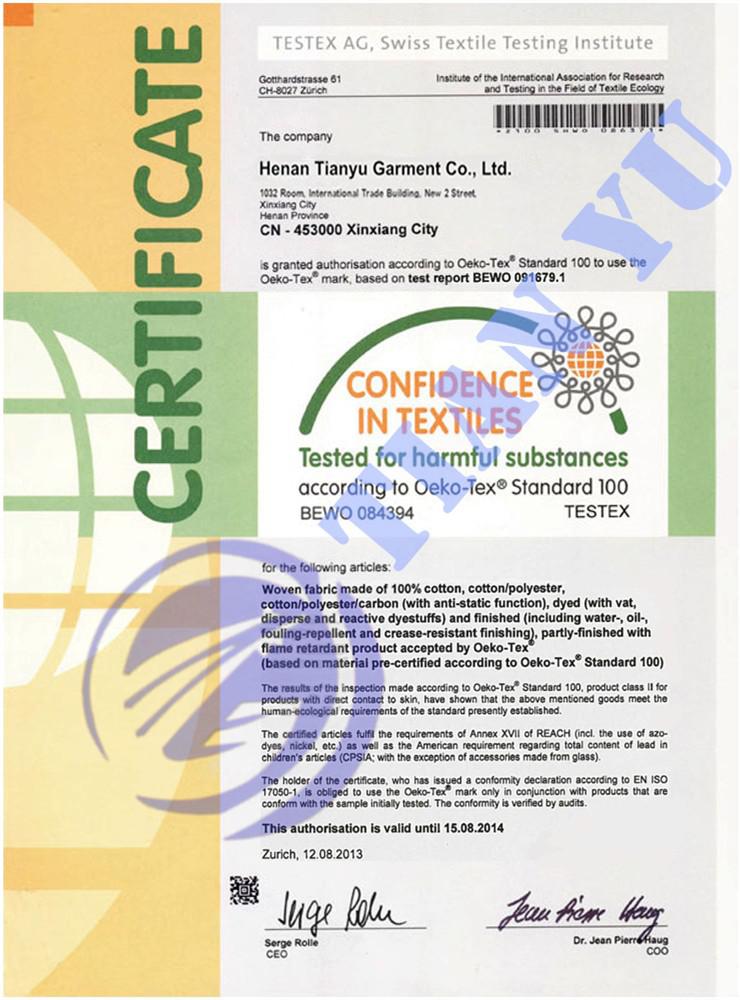 Choose Tianyu, Choose Quality, Choose Satification
.